07 Feb

Does Foglia Tonda dance alone or with Sangiovese?
Does Foglia Tonda dance alone or with Sangiovese?
Does the round leaf give better results in purity or in assembly ? In which type of containers is it better to ripen the wine for optimal results? But above all, can this native character and give something more to the wines of certain areas of Tuscany?
At the center of these questions is Foglia Tonda, an ancient grape variety widespread especially in the central-southern part of Tuscany, previously abandoned and recently recovered by a small number of wineries.
A conference dedicated to Foglia Tonda
To answer these questions, producers and journalists met on February 1 at Fattoria del Colle in Donatella Cinelli Colombini , in Trequanda , in the first forum dedicated to the Foglia tonda grape variety. An appointment that saw the participation of nine wineries in most of the Tuscan provinces . Producers who in recent years have dedicated small portions of their vineyard surfaces to the cultivation of this ancient variety.
Forgotten throughout the last century
Widespread since time immemorial especially in southern Tuscany and perhaps in Umbria, Foglia Tonda is mentioned by Di Rovasenda (1877) in his Essay for universal ampelography in which he describes this vine present in Brolio. Even the agronomists Breviglieri and Casini (1964) refer it to Chianti. More recently the Foglia Tonda has been identified in the historic vineyards within the walls of Siena with the project "Senarum Vinea" (2007-2012). Since 1970 he is registered with the National Register of Vine Varieties and in 1978 he was approved by the University of Florence. It was abandoned about a century ago when its vigor gave the poor peasants of the time so little unripe grapes.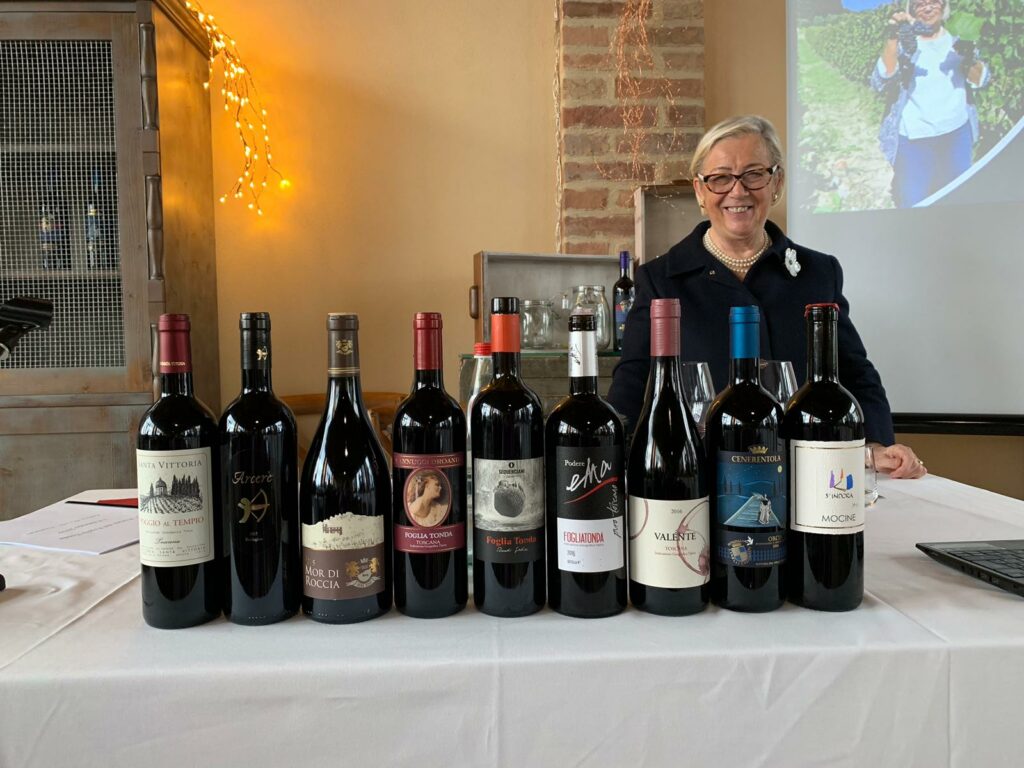 Donatella Cinelli Colombini's passion brought him back to life
Donatella Cinelli Colombini can be considered the architect of the recovery of Foglia Tonda in our days . It was she who, as early as 2000, planted over 400 grapevines from the Tuscany Region vitiarum in the Fattoria del Colle vineyards . The experiment immediately gave good results, so much so that in later years it was replicated. The exaggerated production of grapes , typical of the vine, was however the greatest problem in the search for vegetative balance. Crucial to improving the quality of the grapes was also the contribution of Professor Cesare Intrieri (University of Bologna) who had the production of shredded leaves from the mother plants of the vitiarum of the faculty of agriculture. And so, with the 2001 vintage, Cenerentola (Orcia Doc) was born, Donatella's Sangiovese and Foglia tonda based wine.
The Cellars that participated in the forum
In addition to Donatella Cinelli Colombini, the following wineries participated in the Forum (opening photo): Podere Sequerciani (Gavorrano, Grosseto), Podere Ema (Grassina, Florence), Mocine (Asciano, Siena), Il Castellaccio (Castagneto Carducci, Livorno) , Mannucci Droandi New Agriculture (Montevarchi, Arezzo), Podere Anima Mundi (Casciana Terme, Pisa), Santa Vittoria (Foiano della Chiana, Arezzo), Poggio al Vento Mascelloni (Castiglion d'Orcia, Siena).
In the tasting the questions about the future of Foglia Tonda emerge
Under the guidance of our colleague Gianni Fabrizio we tasted the nine wines produced, partly in purity and partly in assembly with Sangiovese and / or other grape varieties , from the respective companies. Some aged in amphora and others in traditional containers, barrels or barriques. The vintages ranged from 2014 to 2017. According to Gianni Fabrizio, Foglia Tonda produces wines of considerable polyphenolic richness , characterized by a marked acidity and a good vocation for aging. "About his future", he explained, "it must be understood if his vocation is to live a life of his own or become a privileged partner of Sangiovese in absolutely autochthonous supertuscans".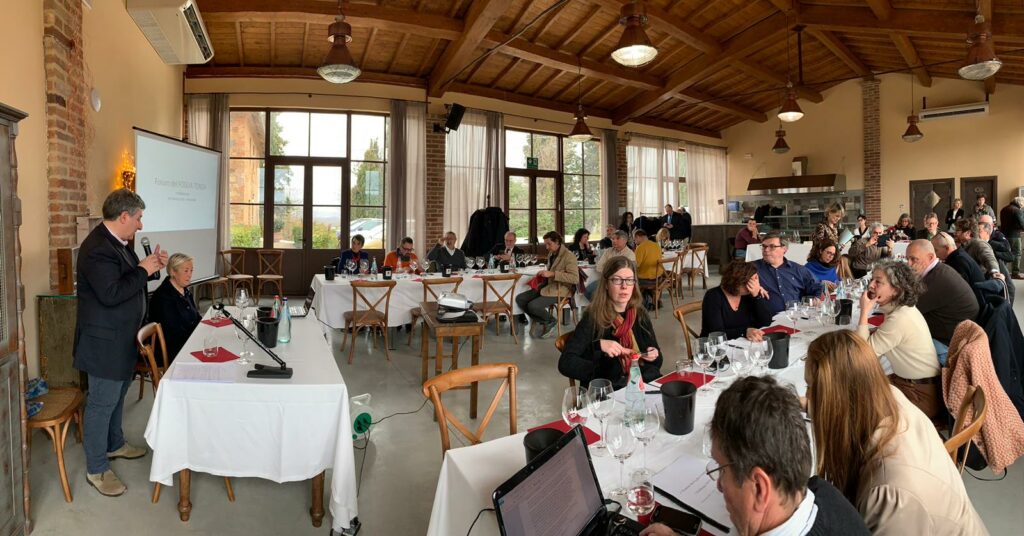 Too fertile and vigorous, but resistant to diseases
As for the morphological characteristics, the grape has (and hence the name) a leaf which is practically circular and resembling a small pan. The bunches are rather large, compact and pyramidal, sometimes winged . The berries are ovoid with a prominent navel and a very pruinose blue peel. However, its greatest defect is fertility : it produces an excessive amount of grapes. Its strength, on the other hand, is its resistance to downy mildew, botrytis and, in part, to oidium . It is slightly later than Sangiovese in budding, flowering, veraison and obviously maturation. As for the wines, these are dark garnet red. On the nose they are intense, with hints of violets, small fruits and dried plums . In the mouth they are full and full-bodied, with a good adaptation to aging.
30 hectares that could soon become 50
Currently in Tuscany the area cultivated with Foglia Tonda is less than 30 hectares, but there are rumors of an important company willing to invest in this variety, planting around 20 hectares.